Dr Mahendra Bhandari Receives Award in Lucknow
Date : December 4th, 2017
It truly is a pleasure to work for and with our CEO, Dr. Mahendra Bhandari. Sometimes though, we fail to realize what a force he has been in Medicine throughout his career. It makes us feel expecially good to see him honored by others. The Lucknow Management Association presented him with the LMA TRANSFORMATION LEADERSHIP AWARD 2017 on November 25th, following the successful Robotic Surgeons Council of India meet.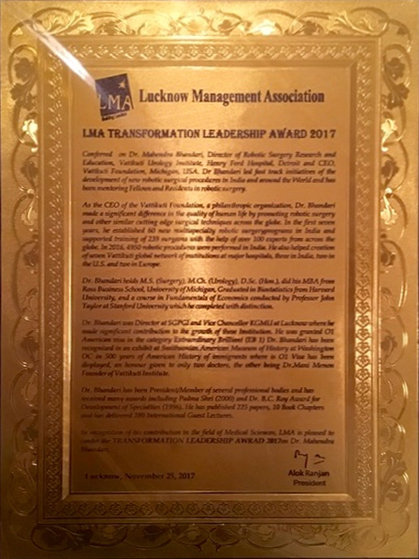 Here is the transript of his citation on the placque presented to him:
Lucknow Management Association
LMA TRANSFORMATION LEADERSHIP AWARD 2017
Conferred upon Dr. Mahendra Bhandari, Director of Robotic Surgery Research and Education, Vattikuti Urology Institute, Henry Ford Hospital, Detroit and CEO, Vattikuti Foundation, Michigan, USA. Dr. Bhandari led fast track initiatives of the development of new robotic surgical procedures in India and around the World and has been mentoring Fellows and Residents in robotic surgery.
As the CEO of the Vattikuti Foundation, a philanthropic organization, Dr. Bhandari made a significant difference in the quality of human life by promoting robotic surgery and other similar cutting edge surgical techniques across the globe. In the first seven years, he established 60 new multispecialty robotic surgery programs in India and supported training of 239 surgeons with the help of over 100 experts from across the globe. In 2016, 4950 robotic procedures were performed in India. He also helped creation of seven Vattikuti global network of institutions at major hospitals, three in India, two in the US, and two in Europe.
Dr. Bhandari holds M.S. (Surgery), M.Ch. (Urology), D.Sc. (Hon.), did his MBA from Ross Business School, University of Michigan, Graduated in Biostatistics from Harvard University, and a course in Fundamentals of Economics conducted by Professor John Taylor at Stanford University which he completed with distinction.
Dr. Bhandari was Director at SGPGI and Vice Chancellor at KGMU at Lucknow where he made significant contribution to the growth of these Institutions. He was granted O1 American Visa in the category Extraordinary Brilliant (EB 1). Dr. Bhandari has been recognized in an exhibit at Smithsonian American Museum of History at Washington D.C., in 500 Years of American History of Immigrants, where his O1 Visa has been displayed, an honour given only to two doctors, the other being Dr. Mani Menon, Founder of Vattikuti (Urology) Institute.
Dr. Bhandari has been President/Member of several professional bodies and has received many awards, including Padma Shri (2000) and Dr. B.C. Roy Award for Development of Specialties (1996). He has published 225 papers, 10 Book Chapters and has delivered 200 International Guest Lectures.
In recognition of his contribution to the field of Medical Sciences, LMA is pleased to confer the TRANSFORMATION LEADERSHIP AWARD 2017 on Dr. Mahendra Bhandari.