New York City Hospitals Change Race-Based Healthcare Delivery
For decades, algorithms used in New York City hospitals have indicated different levels of care for people of different racial backgrounds. In November, the NYC Health Department launched an effort to rewrite their policies to be race neutral.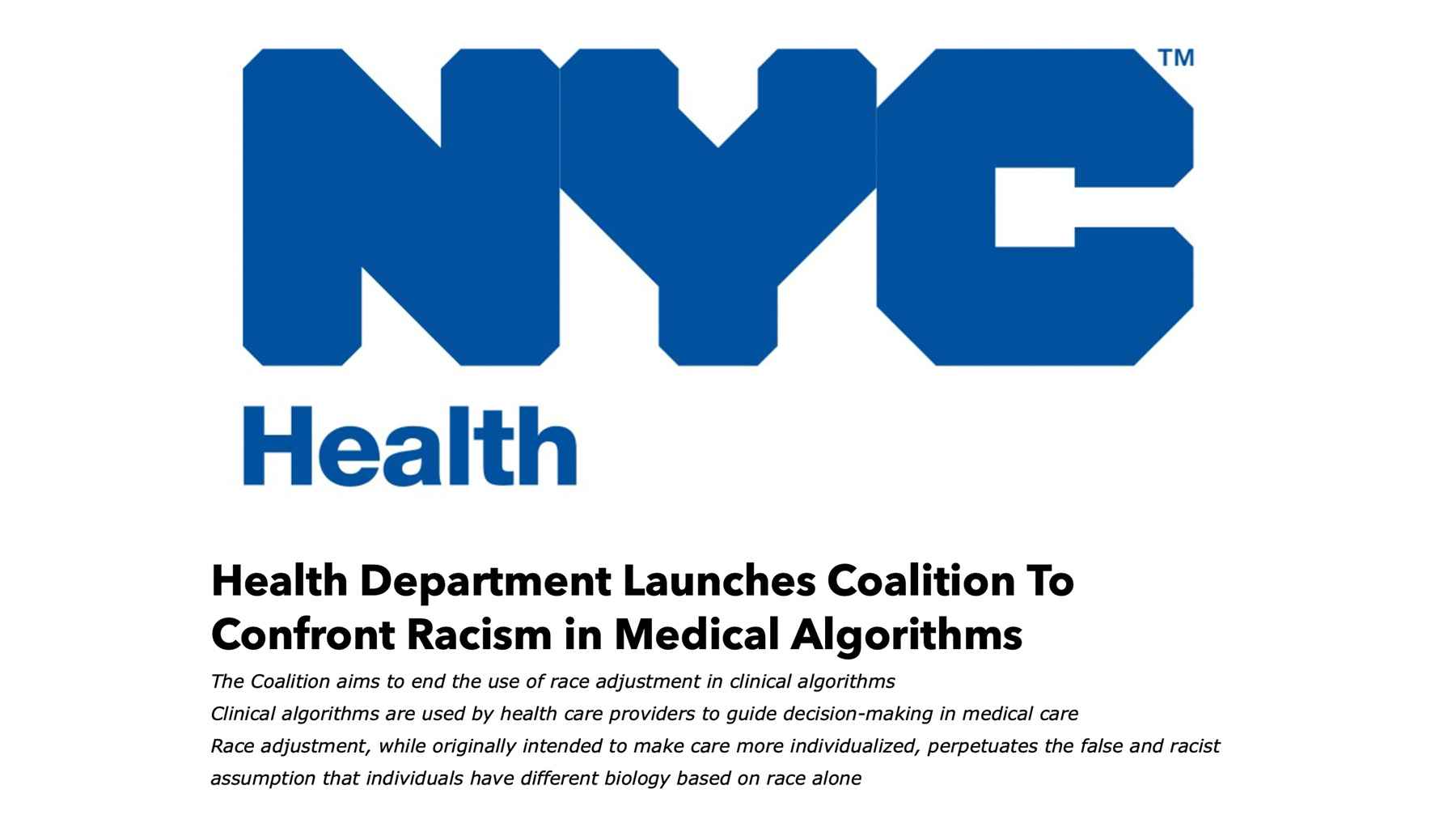 From the November 24, 2021 release: The Health Department today announced the formation of the Coalition to End Racism in Clinical Algorithms (CERCA). Flowing from the Board of Health's landmark resolution declaring racism a public health crisis, CERCA was formed to end the inclusion of race adjustment in clinical algorithms. The Coalition advances the Department's anti-racism work and is expected to advance racial justice in health care for New Yorkers.
The Coalition to End Racism in Clinical Algorithms will help lead to a healthier and more equitable city" said Health Commissioner Dr. Dave A. Chokshi. "I thank our inaugural Chief Medical Officer, Dr. Michelle Morse, and the Coalition members for their vision in confronting this issue; it represents a concrete and important action the Department is taking to address racial health inequities head on.
The announcement cited current examples, such as the difference in how White vs. Black patients' kidney functions were recognized, as well as the fact that women of Hispanic or Black heritage were more apt to receive a caesarean section than white women in similar situations. They also face more birth complications than Whites do.
While this initiative is localized to New York City, the Vattikuti Foundation recognizes that this condition may be prevalent in other parts of the U.S. and the world. Following the example set by the 'Big Apple,' would be good medicine, no matter where you are, for all of the patients you serve.