The KS International Robotic Surgery Video Awards
Video Entry Basics
This is the first time the Vattikuti Foundation has opened the KS Robotic Surgery Video Awards to the global robotic surgery community. It is also the first time the VF has offered a $10,000 top prize! The KS Awards, as many call them, are all about sharing the best in robotic surgery knowledge, techniques and new ideas. Sri Krishnaswami Subramaniam, the late president of Vattikuti Technologies, contributed mightily to the development of robotic surgery in India before his untimely passing. This program is intended to honor his memory, while making contributions to medical science via new videos.

Any surgeon or surgical team is invited to enter one 5-to 8-minute educational video about an aspect of robotic surgery. Here are some tips for making your best video possible: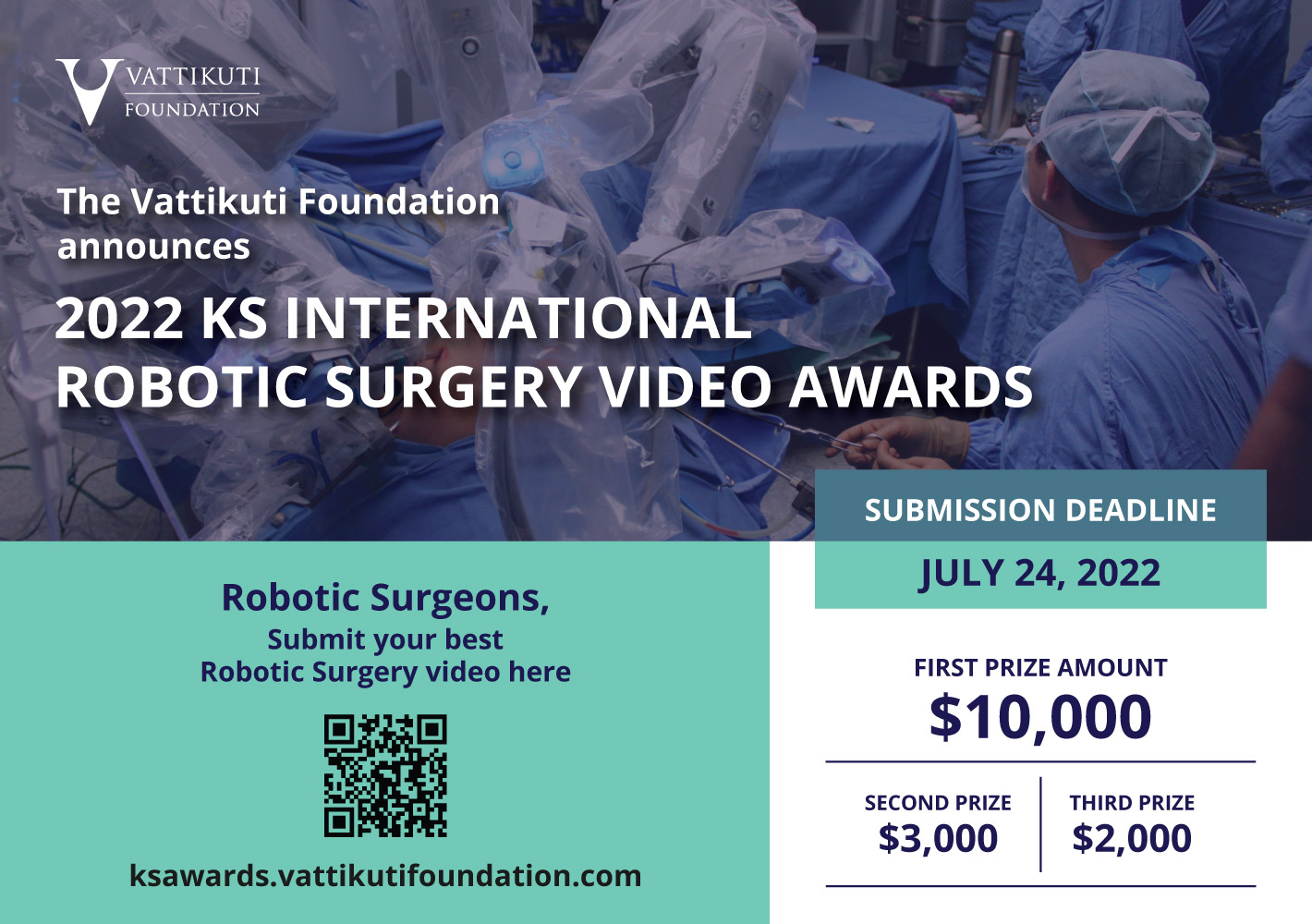 As in many business practices- the term "Garbage in, Garbage out" rings true for videos. Use the best possible surgical footage, graphics and narrative content when you produce your 5 to 8 minute program. If it doesn't look good on your computer- it won't on a large screen!
Know what the message is you want to send, and know your target audience. If it is for surgeons, be accurate on your anatomical geography; show how your technique is reproducible for your colleagues in their hospitals. If it is for the OR/ OT Team, your complete explanation of the How's and Whys of any procedural steps you are describing is essential.
MAKE THE MESSAGE COMPLETE
We have seen several entries in the past lacking proper labels, arrows, etc. when pointing out specific anatomic locations. Just because YOU know what you're talking about- does not mean that a resident or fellow does yet! Other videos may have a graphic or video clips on screen for just one or two seconds No one can learn anything in such a short time! Your goal (and ours) is to educate, so please make sure that your narration is complete- and completely understandable in clear, concise language.
We have seen videos with great ideas, but they fail, all because there are multiple segments with 2-3 seconds of surgery, then another 2-3 seconds, over and over. Make the shots long enough to register in the mind of your audience. Also (this is important) DO NOT use fancy zooms, dissolves, or other special effects, unless they help convey your message! Just because your editing program has them- does not mean they will gain you points from the Judges. Fancy effects can sometimes distract from the content. Efficient time usage is paramount.
We have heard some of the poorest recordings of the human voice in some of our past entries. Please make sure to record your narrator in a quiet, echo-free environment. Accents that are difficult to understand may limit the ability for a viewer to learn the most important aspects of your content- and will be judged accordingly. Read clearly- and at a normal pace. Some entries have sounded rushed, as if the producer was trying to fit everything in under 8- minutes. Don't do that! Make sure your audio levels are in the upper range of the sound level (VU) meter, without distorting. REMEMBER: music is NOT ALLOWED.
ABSTRACTS, TITLES ARE IMPORTANT
A one-page Abstract with a short explanation of the content is what we are looking for- not a medical journal length paper! The Abstract will be used (if your video is accepted) on our YouTube channel and website following the close of the competition. For this reason, we are also asking for short- 8-words-or-less titles for your video! You can add an additional subtitle in the copy, but not in the formal video name.
Once your video has been entered, it is too late to make corrections. Be sure that you (and your trusted colleagues) are pleased with your video before you hit "SEND." Be sure that the file name includes your name and SHORT identifier: "Dr. Joe Brown- RKT" NOT: "2022 KS ENTRY." We need to be able to keep track of your entry- among many others.
Thanks for your interest in entering a video in this exciting Awards Program! All of us at the Vattikuti Foundation have high hopes for the videos entered in this competition to contribute to the pool of knowledge about robotic surgery. No matter the specialty- your entries are invited. We are here to answer questions at our email address: ksawards@vattikutifoundation.com.
Submissions will be accepted through July 24, 2022, at 11:59 PM ET.