The 2023 KS International Robotic Surgery Innovation Awards Submission Entry Basics
The Vattikuti Foundation is accepting applications for the 2023 KS International Robotic Surgery Innovation Awards ("KS Awards") to the global robotic surgery community. $10,000 cash prize for the top and entrants also are being considered for the Humans on the Cutting Edge of Robotic Surgery academic symposium to be held in Ghent, Belgium in October, 2023.
The KS Awards promotes excellence for robotic surgeons to exchange knowledge, techniques and new ideas to improve patient outcomes. Sri Krishnaswami Subramaniam, the late president of Vattikuti Technologies, contributed mightily to the development of robotic surgery in India before his untimely passing. This program is intended to honor his memory, while making contributions to medical science via new videos.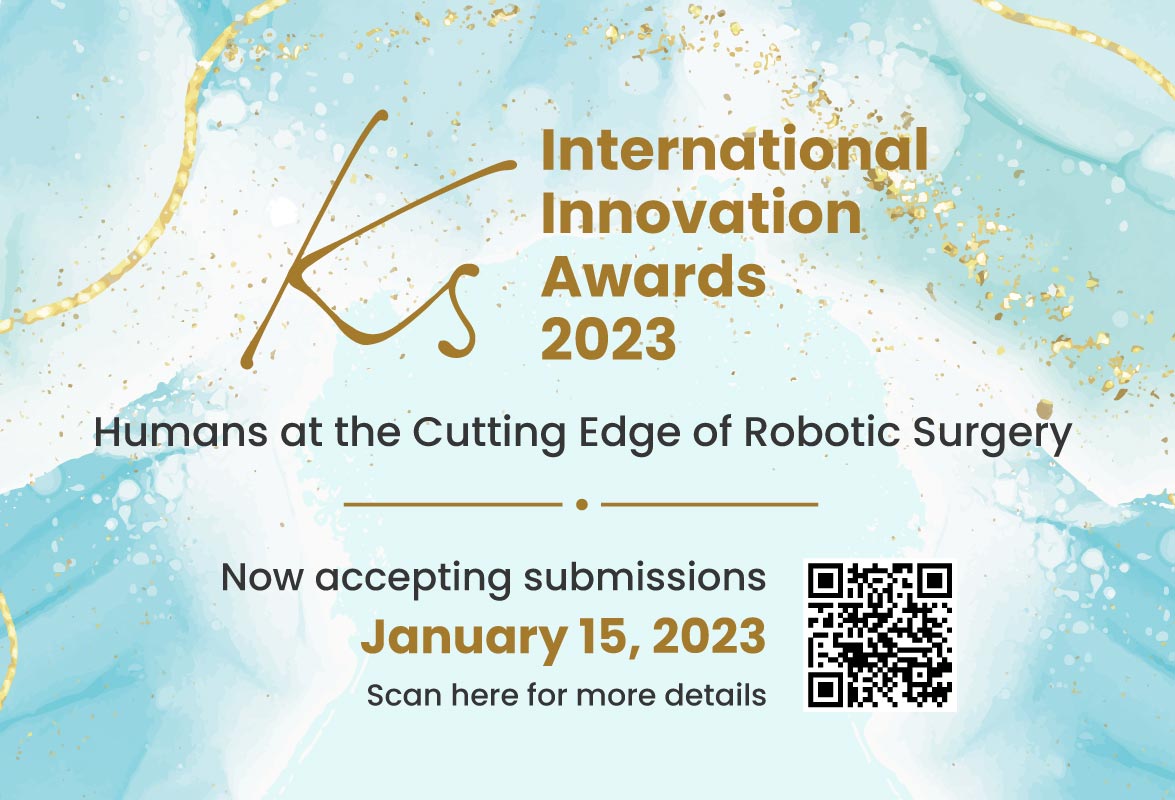 Here are some tips for robotic surgeons and teams to make optimal submissions:
Use the best possible surgical footage, graphics, and narrative content when you produce your 5-8 minute video. If it doesn't look good on your computer- it won't on a large screen!
Know what the message is you want to send, and know your target audience. Be accurate on your anatomical geography; show how your technique is reproducible for your colleagues in their hospitals. If it is for the OR/ OT Team, your complete explanation of the How's and Whys of any procedural steps you are describing is essential.
MAKE THE MESSAGE COMPLETE
We have seen several entries in the past lacking proper labels, arrows, etc. when pointing out specific anatomic locations. Just because YOU know what you're talking about- does not mean that a resident or fellow does yet! Other submissions may have a graphic or video clips on screen for just one or two seconds No one can learn anything in such a short time! Your goal (and ours) is to educate, so please make sure that your narration is complete and completely understandable in clear, concise language.
We have seen videos with great ideas, but they fail, all because there are multiple segments with 2-3 seconds of surgery, then another 2-3 seconds, over and over. Make the shots long enough to register in the mind of your audience. Reserve use of zooms, dissolves, or other special effects, only to help convey your message! Remember that fancy effects can sometimes distract from the content. Efficient time usage is paramount.
We have heard some of the poorest recordings of the human voice in some of our past entries. Please make sure to record your narration in a quiet, echo-free environment. Accents that are difficult to understand may limit the ability for a viewer to learn the most important aspects of your content and will be judged accordingly. Read clearly and at a normal pace. Some entries have sounded rushed, as if the producer was trying to fit everything in under 8- minutes. Don't do that! Make sure your audio levels are in the upper range of the sound level (VU) meter, without distorting. REMEMBER: music (sound effects) are NOT ALLOWED.
ABSTRACTS, TITLES ARE IMPORTANT
A one-page Abstract with a short explanation of the content is what we are looking for (not a medical journal length paper)! The Abstract may be used (if your submission is accepted) on the Vattikuti Foundation YouTube channel and website following the close of the competition. For this reason, titles are to be short (<8-word titles for the video). An additional subtitle in the copy is permitted, but not in the formal video name.
Once your submission has been entered, it is too late to make corrections. Be sure that you (and your trusted colleagues) are pleased with your entry before you submit. Be sure that the file name includes your name and SHORT identifier: "Dr. Joe Brown- RKT" NOT: "2023 KS ENTRY."
Thank you for your participation in this international competition. All of us at the Vattikuti Foundation have high hopes for the submissions entered in this competition to contribute to the pool of knowledge about robotic surgery. No matter the specialty, your entries are encouraged.
We are here to answer questions at our email address: ksawards@vattikutifoundation.com
Submissions will be accepted through June 15, 2023, at 11:59 PM ET.