VF CEO Dr. Mahendra Bhandari Published in the AUA News
Besides the responsibility of running a global Non-profit, Dr. Mahendra Bhandari, MD, MBA, is working with partners Mohamed Javid, MS, MRCS and Madhu Reddiboina, MS to find answers for incorporating the latest Artificial General Intelligence (AGI) and Large Language Models (LLMs) into the world of Medicine and surgery. Some of his latest research has just been published in the July 2023 issue of AUA News.
Their paper 'Optimization and Validation of ChatGPT and GPT-4 as a reasoning Engine in Clinical Urology Practice' studies uncommon threads from four urologic oncology patients. Two models: ChatGPT and GPT-4, were supplied with patient data, and the responses by these models were cross-validated with the accepted clinical practice guidelines, standard-of-care and peer-reviewed published literature. Both models were subjected to different "styles" of raising prompts as Dr. Bhandari and his team worked to discover the most promising method of questioning the AI to gain a highly-effective response. They also revealed which AI performed better within the confines of a Urologic practice.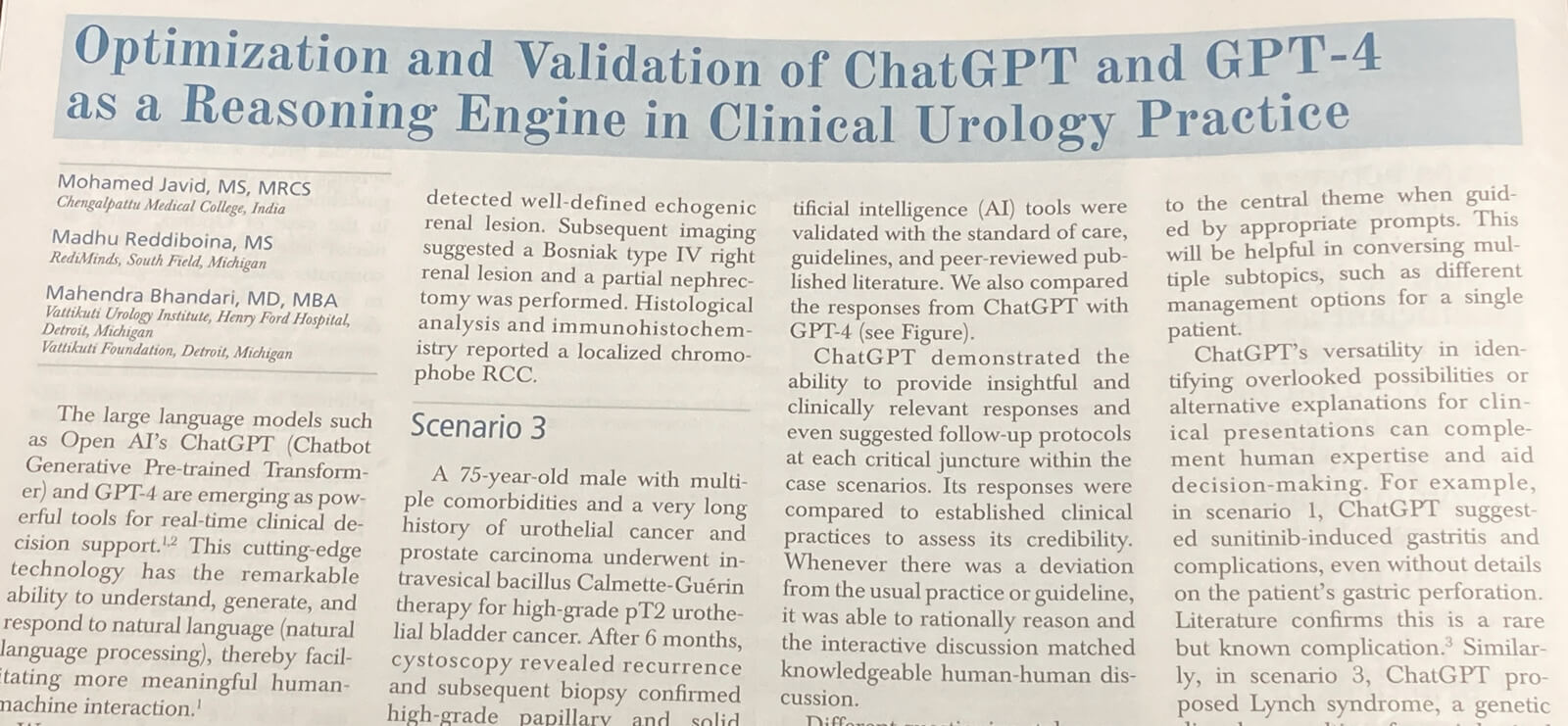 ChatGPT was reported to be more cautionary- making it clear to users with an "I am not a doctor…" disclaimer. This led to questioning how useful the AI could ultimately be. ChatGPT was however able to provide insight by providing multiple management options for individual patients, including research-based suggestions for prescription medications proven effective for similar conditions.
From the report: "Interestingly, ChatGPT refined responses when presented with better reasoning or alternative explanations…"
Large Language Models GPT-4 was found by the researchers to be a stronger tool in this small, preliminary study. "We found the latest version of GPT-4 more logical and capable of in-depth analysis than ChatGPT," the AUA article reports. They conclude that this could be due to the human feedback given in preparation to GPT-4 being released publicly.
To read the complete AUA News article, including chart and references, please go to the July 2023 issue, pages 26 & 27.